A list of our favorite recipes for this week's vegan meal plan. As a meal prepper, I love planning out healthy meals at the start of each week. Simple, everyday, plant-based recipes you'll love! This week is the third week of January, so here are some fantastic recipes we have coming up. Breakfast, lunch, and dinner inspiration for your table! For Veganuary and beyond 🙂
I wanted to try something fun this year, so I decided to make a list of recipes for a weekly vegan meal plan everyone can enjoy. These are recipes that we eat regularly on the homestead, and are simple and totally recreatable for cooks of any skill level. Check out all of my Weekly Vegan Meal Plans here!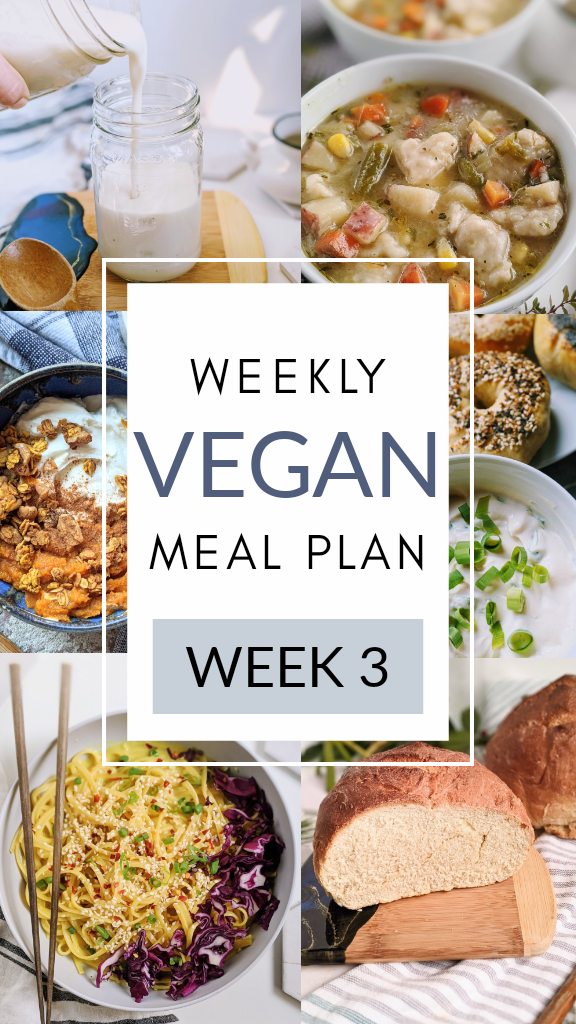 How To Do Plant-Based Meal Prep!
I choose 2 breakfasts for the week, 1 weekend brunch, 2 weekly lunches, 4 dinners, and one bread. Batch cooking is a lifesaver, so I make multiple portions of everything and prep them out for the week. Honestly, I don't get tired of eating the same thing for lunch every day because I switch up the flavors each week. If you like variety, then you can alter between recipes. Because we work Monday-Friday 9-5 schedules, Sunday is the best meal prep day for us. But choose whatever day works best for you.
Honestly, this year will be all about the pantry staple ingredients for us. Since COVID has impacted our grocery shopping frequency, I've been building lots of fresh healthy meals from what we already have on hand. You can read through my Top 125 Vegan Pantry Staple Ingredients & Recipes that I stock my pantry with. There are some surprising items on there… especially the proteins!
Weekly Vegan Breakfast Recipes
I like prepping one breakfast for me, and one for my husband. I try to prep about 5 servings of each so we have ready-made breakkies that we can just heat and eat. Click the links below the images to see the full recipes!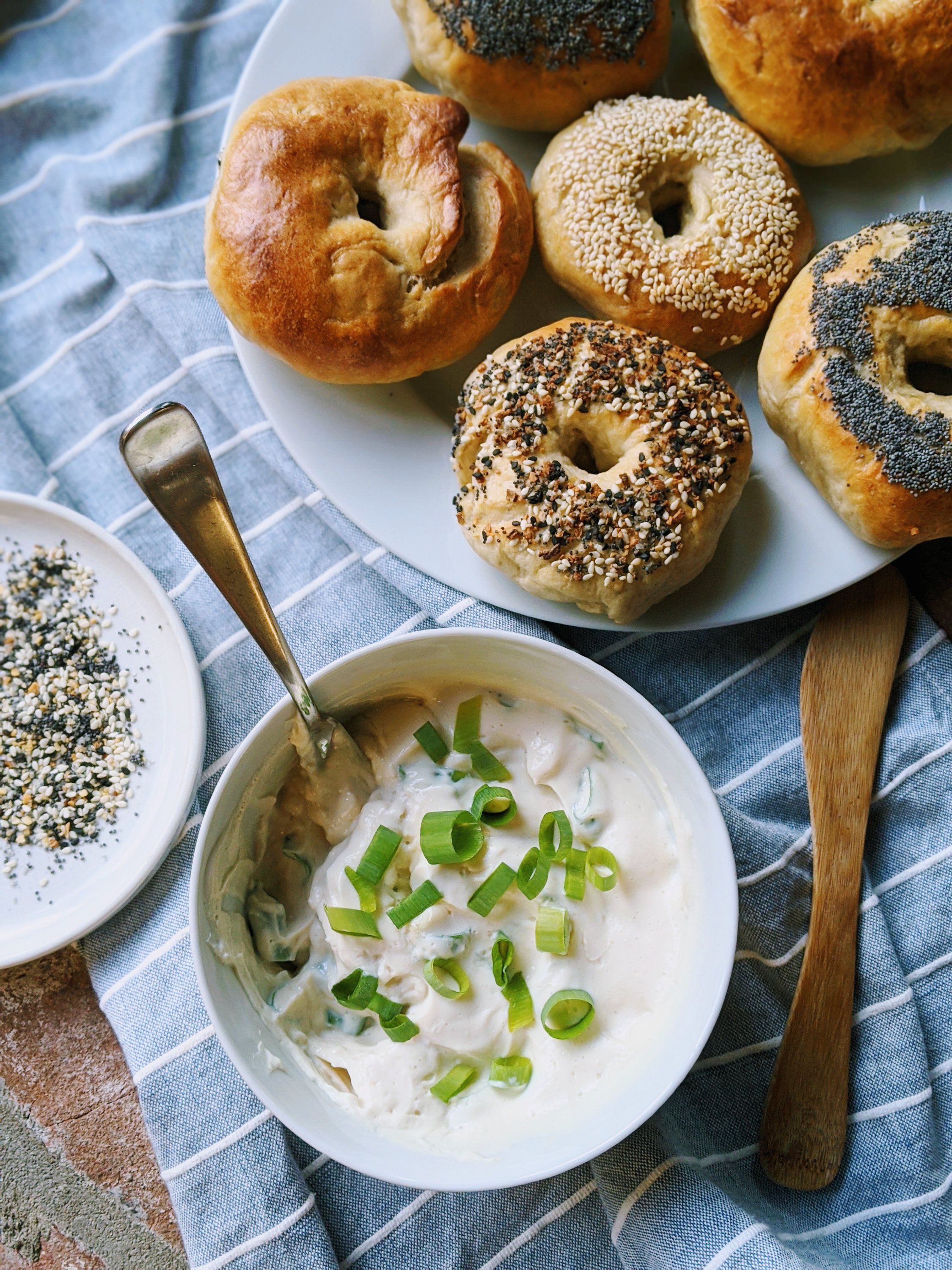 Tofu Cream Cheese
This vegan tofu cream cheese recipe is loaded with flavor from fresh garlic and herbs! Healthy, vegan, gluten free, and can be made oil free.  Great for spreading on a homemade sourdough bagel,  on an English muffin, or as the base of a party dip.
Check out this recipe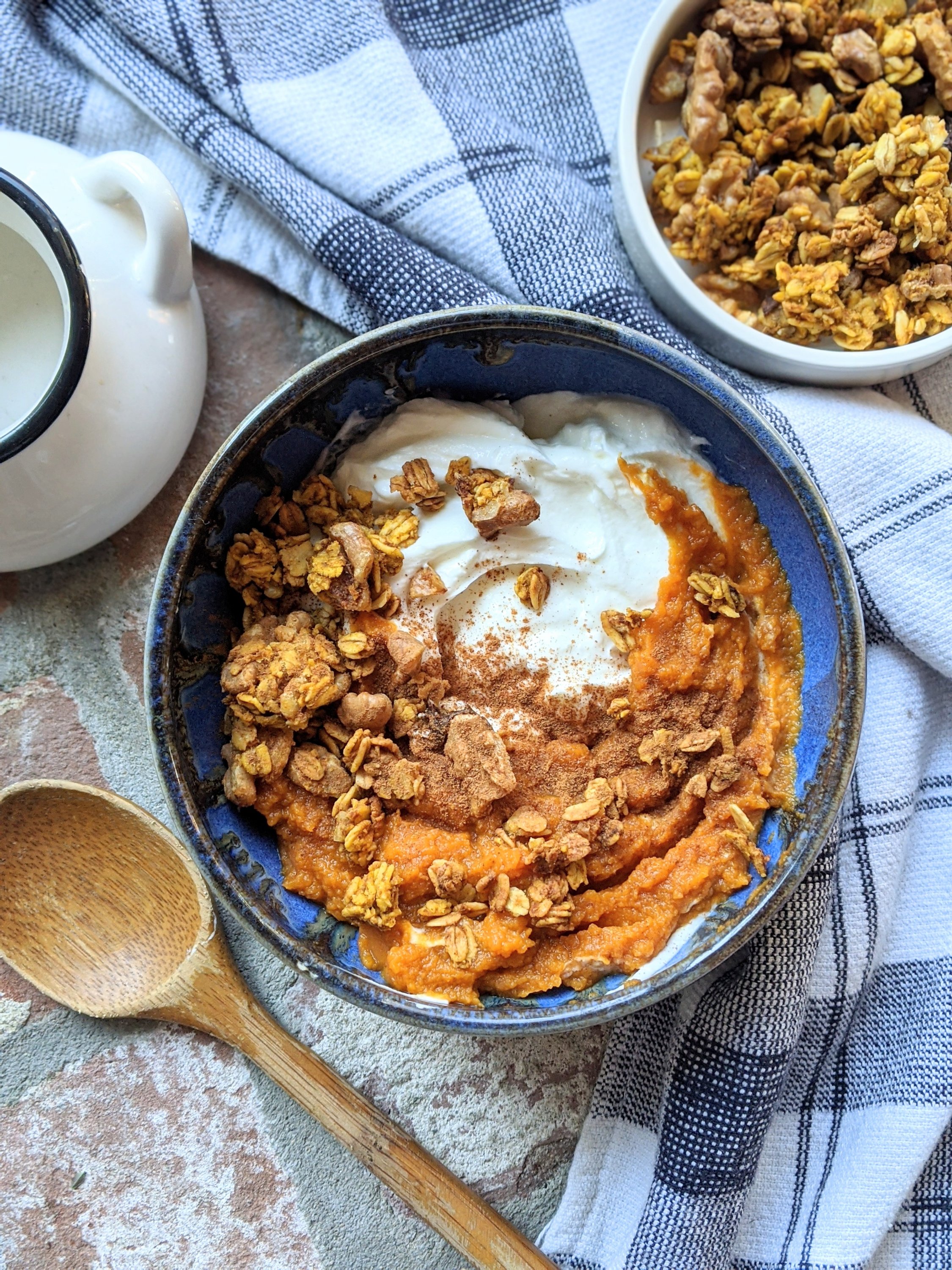 Pumpkin Breakfast Bowl 
This bright and healthy pumpkin yogurt bowl is the perfect fall breakfast or brunch. A recipe with canned pumpkin that makes a quick and nutritious meal.  Packed with vitamins, minerals, and topped with fresh crunchy granola... yum!
Check out this recipe
Weekday Vegan Work or School Lunches
Lunches for us are almost always soups – but the occasional sandwich, wrap, or salad will get thrown in the rotation. I cook 2 large pots of soup on Sunday nights and divide them into jars for the week. That way, when noon rolls around we can just heat + eat!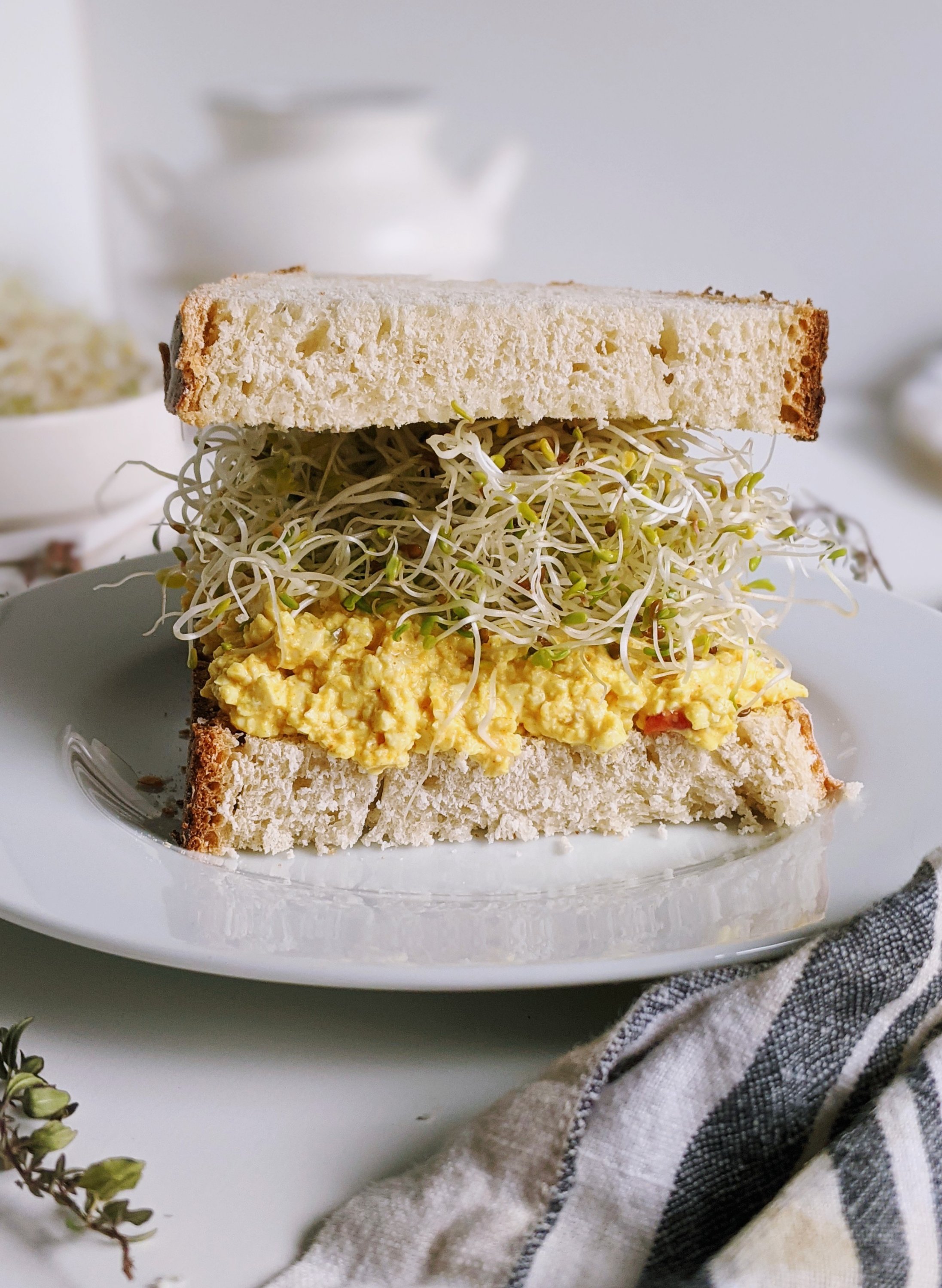 Turmeric Tofu Salad Sandwich (Vegan, GF)
This turmeric tofu salad sandwich is a healthy protein packed vegan egg salad - made with healthy spices, homemade bread, and veggies!  A great meal prep lunch to enjoy for many meals throughout the week.
Check out this recipe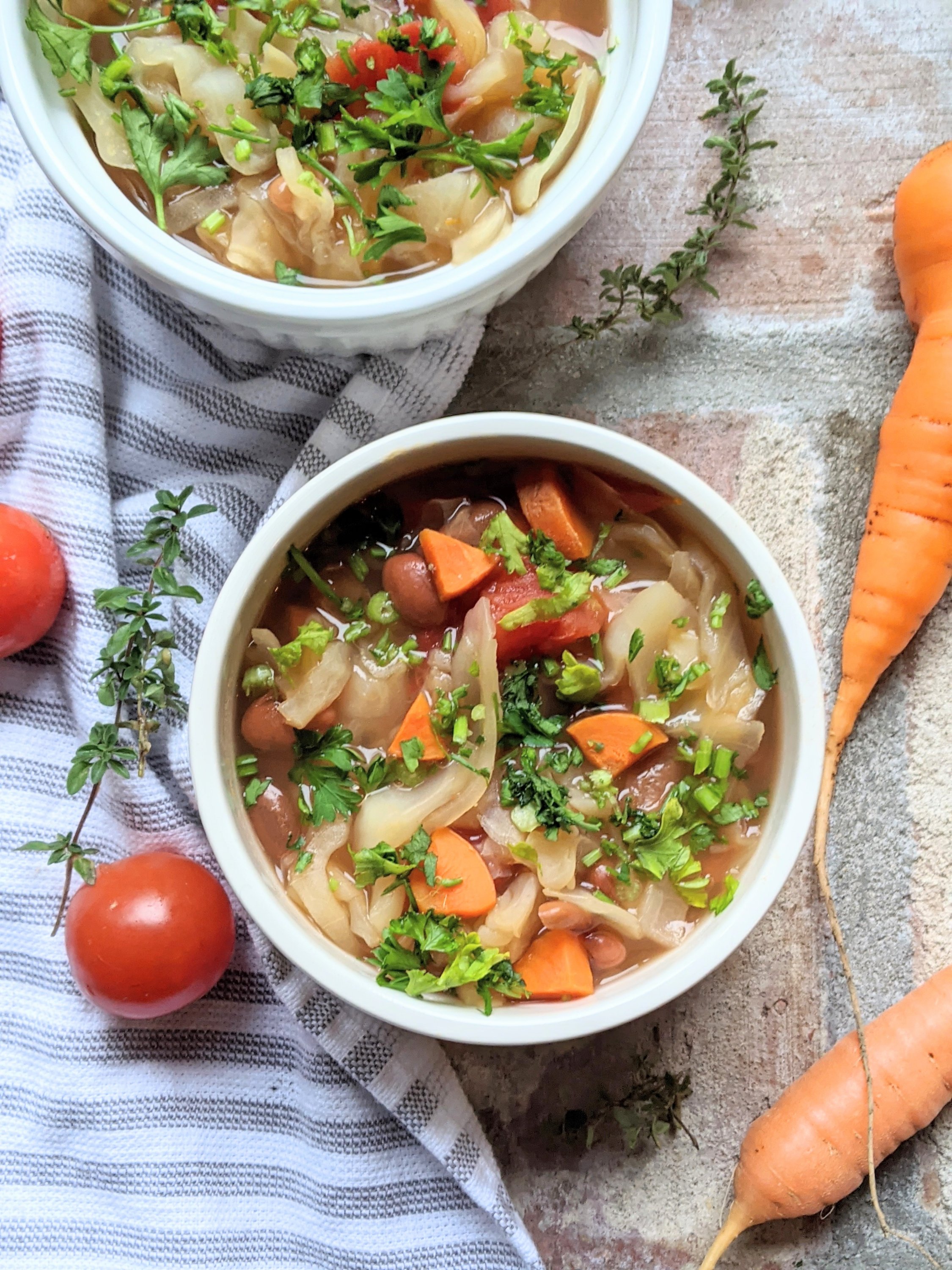 Bean and Cabbage Soup
This healthy bean and cabbage soup is loaded with fresh vegetables, cabbage, beans, and spices. A great high-fiber recipe if you're looking for a lighter meal option.  Serve as a light lunch or dinner, with a salad or slice of thick rustic bread - vegan and gluten free!
Check out this recipe
Easy Vegan Weeknight Dinners
Dinners for us rotate around some great pantry staple ingredients: rice, pastas, grains, and potatoes. I try to mix it up with the carb, protein, and vegetable selections every week. I usually make 3 or 4 different dinners per week, and we enjoy them for a few nights in a row.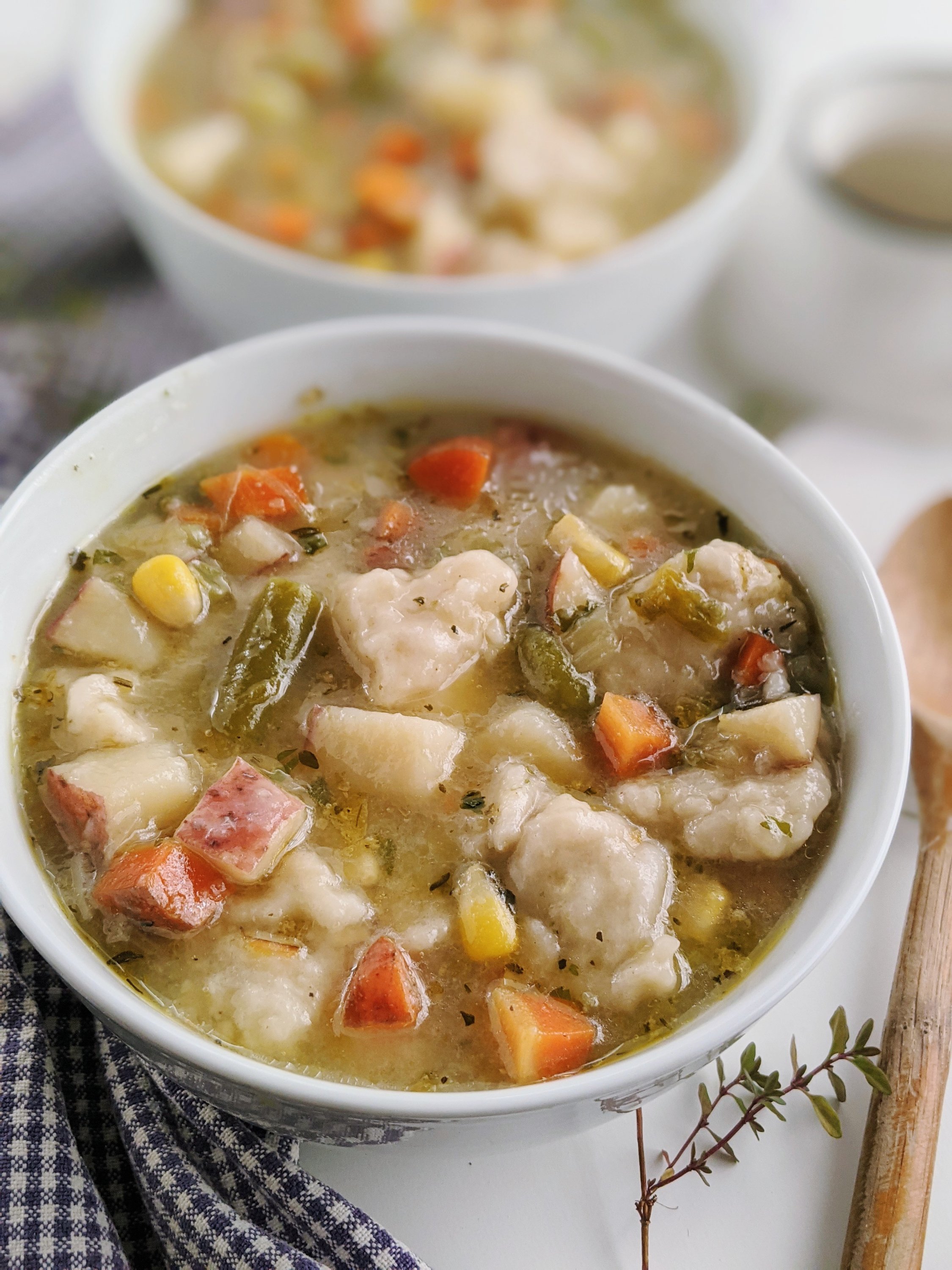 Vegetarian Chicken and Dumplings Soup
This vegan Chicken and Dumpling Soup is the coziest bowl of plant-based comfort food! Rich, thick, hearty, herby, and can be made gluten free.  Serve with a fresh side salad and curl up next to the fire to enjoy this great cold weather recipe.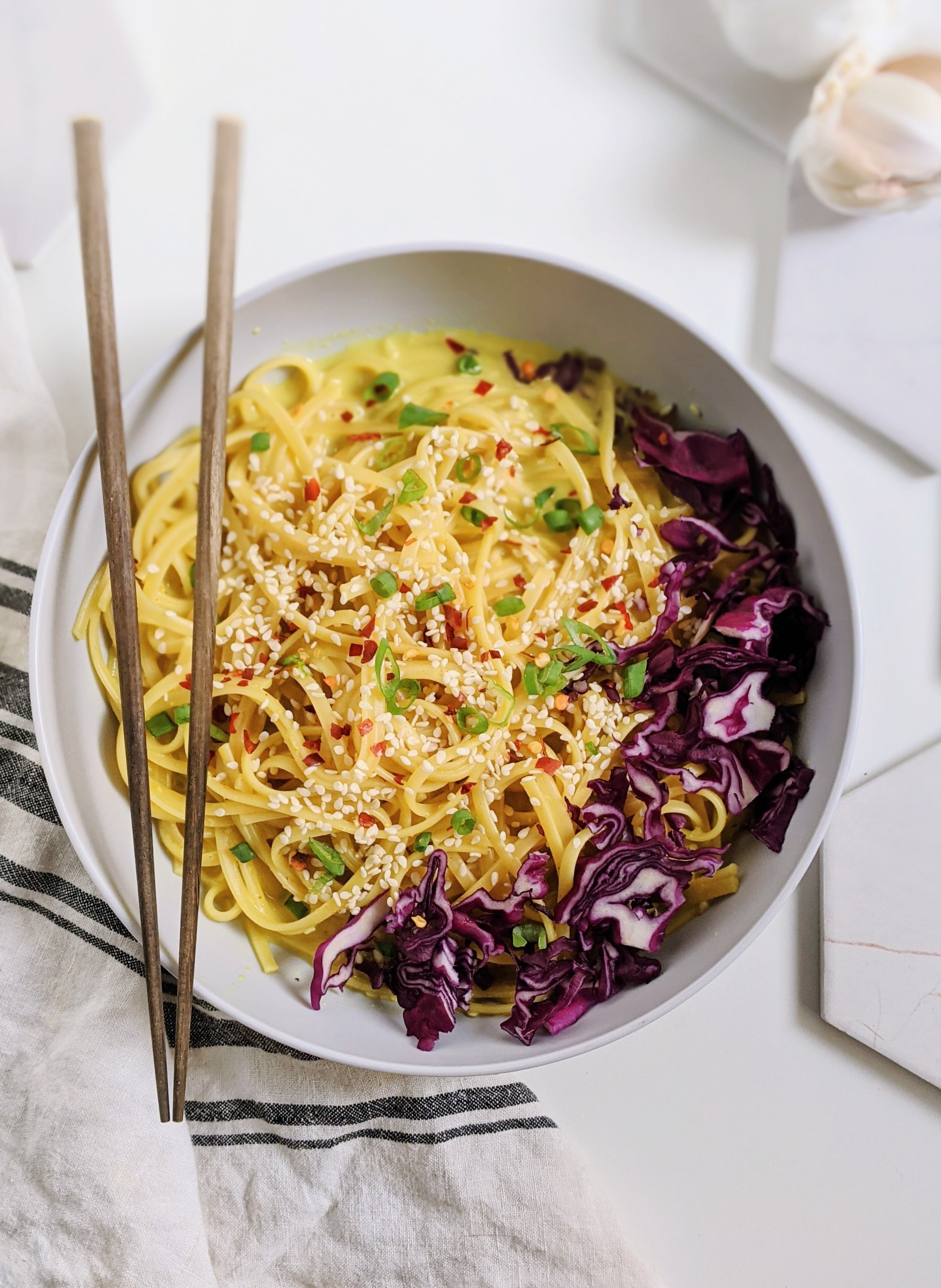 Vegan Coconut Curry Noodles Recipe
These vegan coconut curry noodles are a quick and easy meal, ready in 15 minutes! Loaded with fresh vegetables, these noodles are a great lunch or dinner.  These are loaded with fresh veggies like bean sprouts, cabbage, carrots, and green onion.
Check out this recipe
Pumpkin Lentil Chili
This pumpkin lentil chili is a healthy fall comfort food loaded with plant protein and fresh vegetables! Great as a meal prep or game day dinner.  Serve with a slice of thick crusty bread or cornbread, and top with your favorite toppings: cilantro, crackers, sour cream or coconut cream, and melty cheese.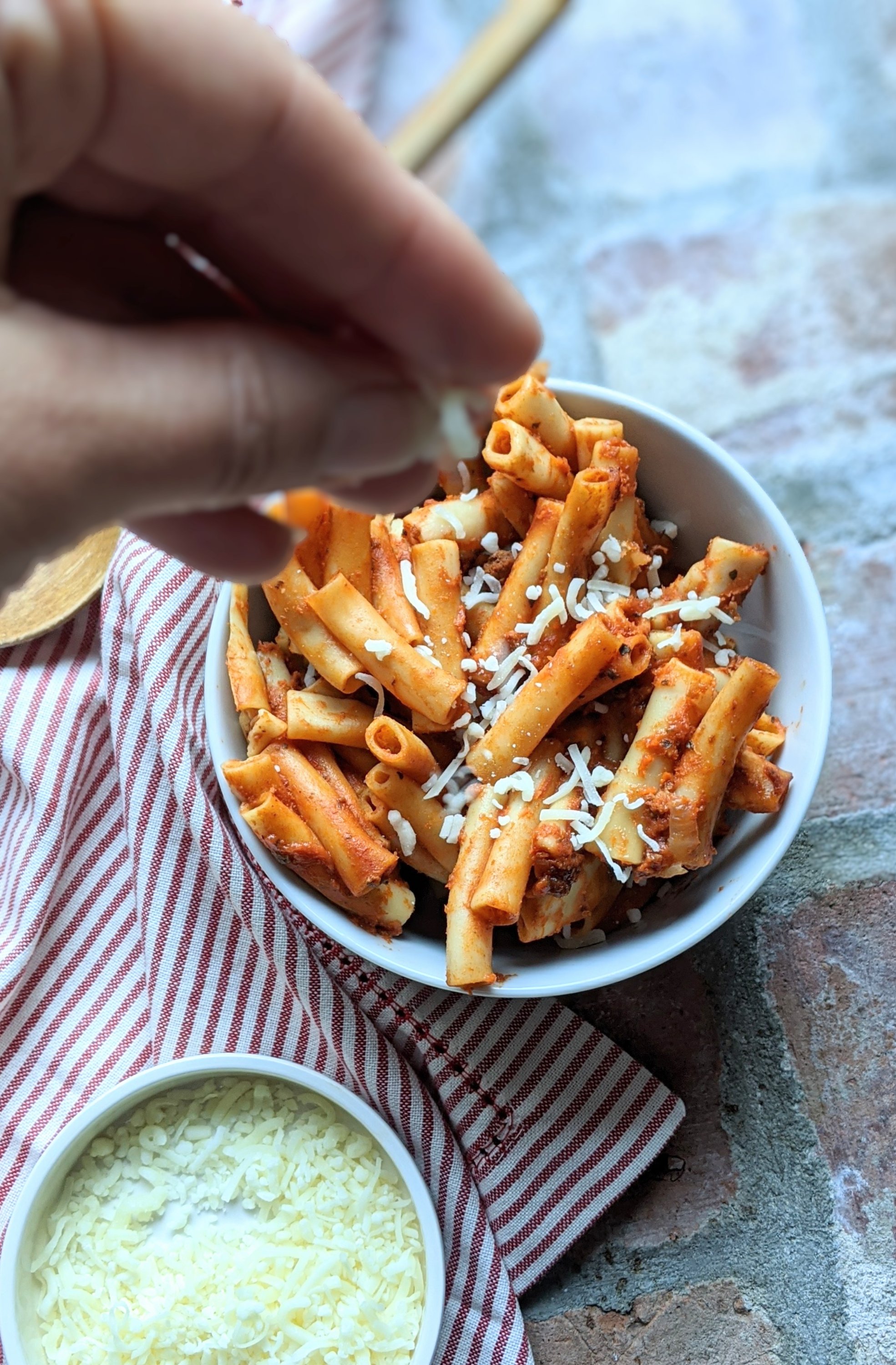 Instant Pot Baked Ziti
This Instant Pot Baked Ziti is vegetarian, Vegan, and a fantastic meatless pressure cooker meal! Loaded with vegetables, spices, and flavor!  Serve with a salad and a thick slice of homemade garlic bread for the ultimate stay-at-home Italian meal. A restaurant-quality meal that cooks in 3 minutes.
Check out this recipe
Vegan Weekend Brunch Recipes
I love simple weekend meals that I can whip up quickly after sleeping in! I love toasts, simple breakfast sandwiches, chickpea scrambles, and muffins. This week's brunch is oat milk over cereal, a quick and satisfying late-morning meal.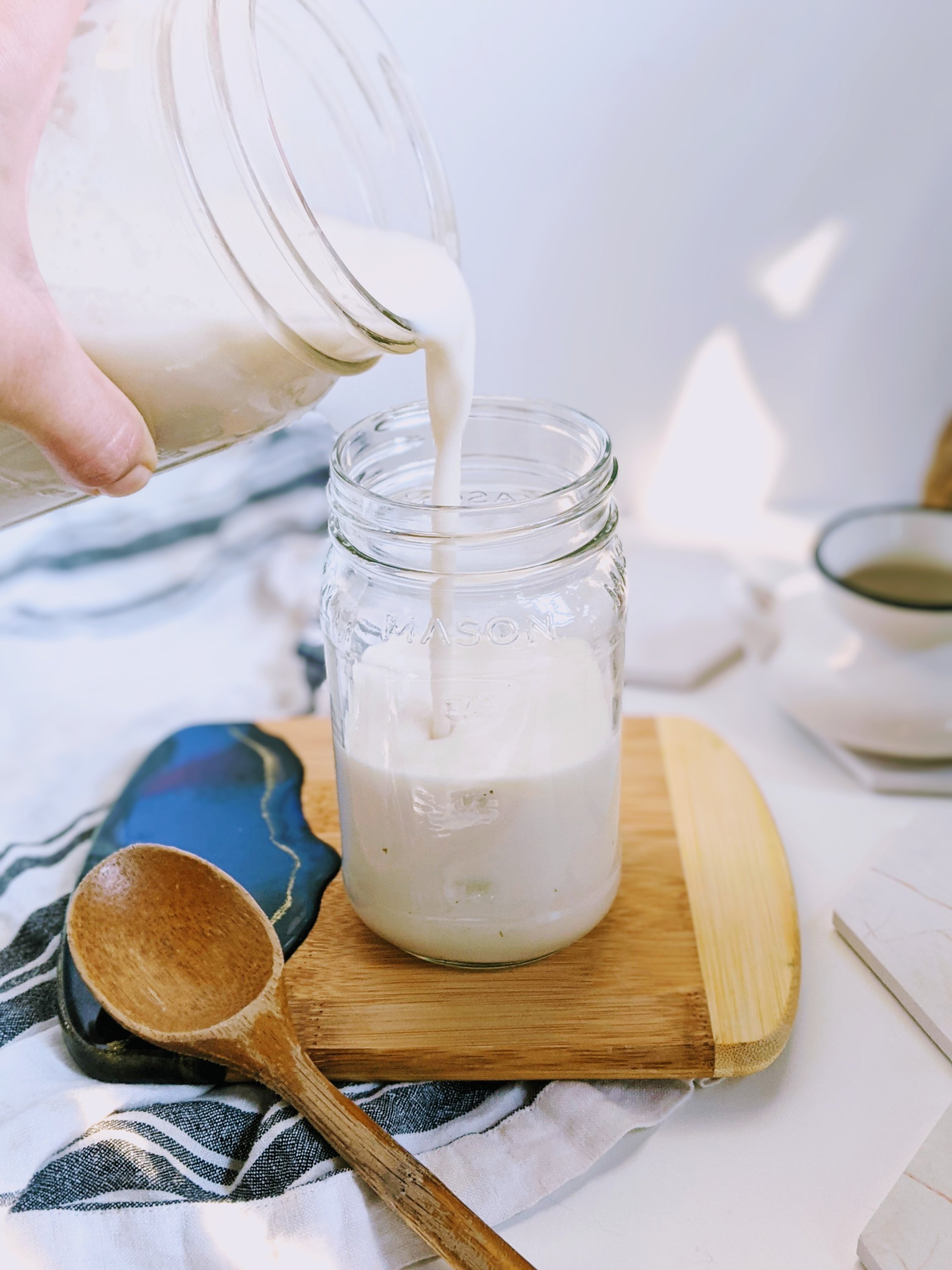 Vegan Bread Recipe of the Week
Since I have naan pizzas on the menu – I will be making a double batch of naan to enjoy this week. Great to cook once and enjoy for a few different meals with different flavors.
With my leftover canned pumpkin from making the quesadillas, I can whip up a batch of this amazing pumpkin spice bread!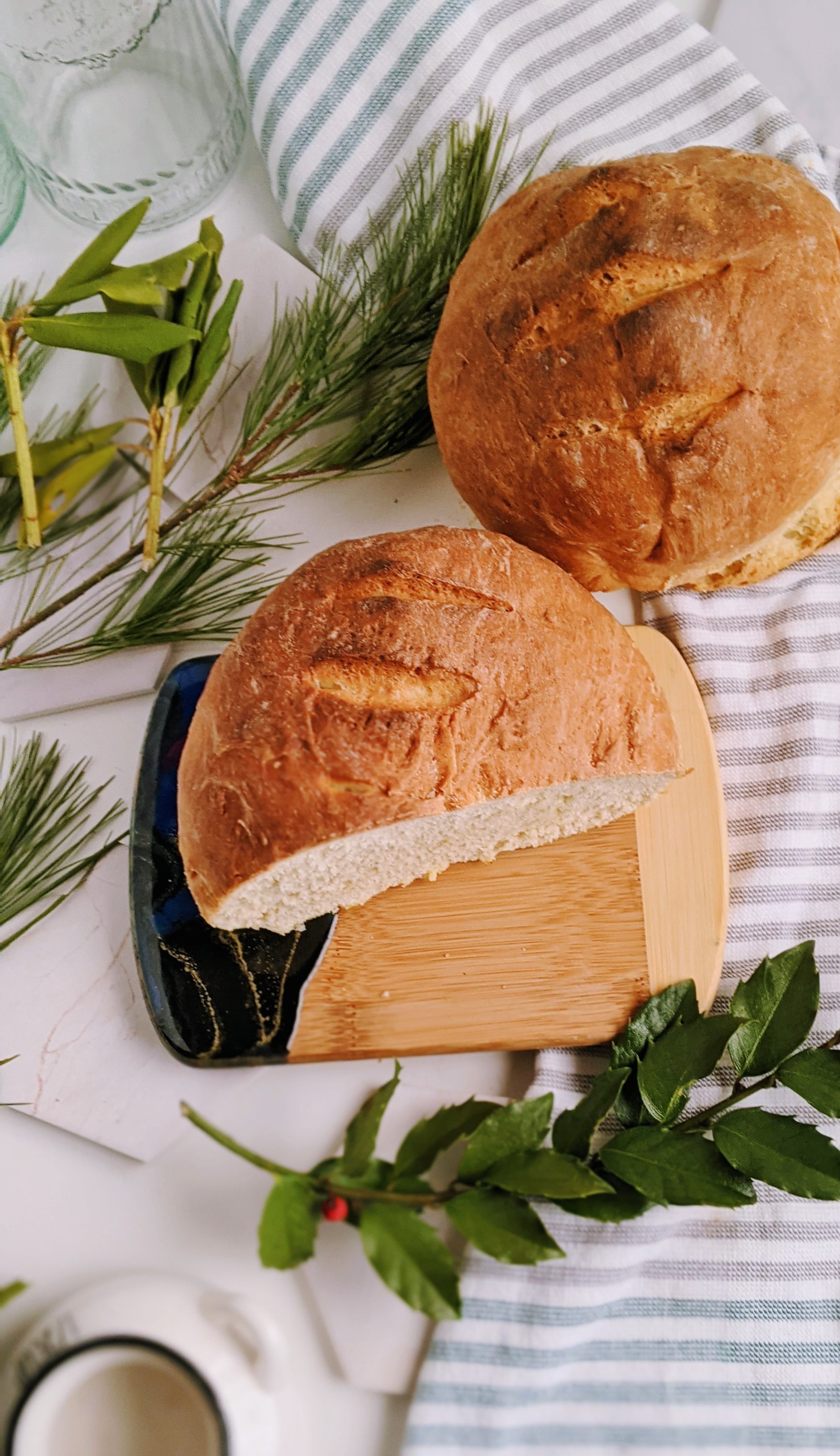 Quick Yeast Bread Recipe
This quick Yeast Bread Recipe has 5 simple ingredients and bakes quick! Prep this bread for dinner or to make sliced sandwich bread for lunches. Vegan, egg free, and dairy free!  Great for toasting up for breakfast or brunch, an amazing way to impress your brunch guests, friends, and family!
As always, if you make any recipes from this weekly vegan meal plan, be sure to leave me a comment, rate this recipe, and tag me on Instagram so I can feature you. I love seeing all your photos of my recipe recreations!
Let's stay in touch – make sure to sign up for my newsletter to get healthy recipes delivered fresh to your inbox. And don't forget to follow over on Pinterest, Instagram , & Twitter– I'd love to connect with you there!